JurySelectionPro Organizes And Helps You Obtain More Consistent Juror Information, Increasing Your Cause Challenges And Effectiveness.
Rather than using little post its that are hard to read, inconsistent and provide little information: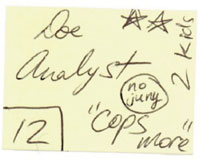 Be more organized with the JurySelectionPro cards and toolkit.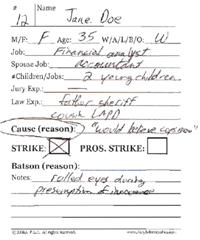 Unique self-stick cards on hard stock
Increase your Cause and Batson challenges
Cause and Batson case law crib sheet
Laminated grids
Professional carrying case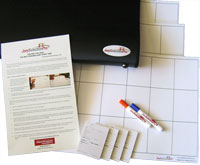 JurySelectionPro consists of unique cards, grids and a detailed guide that help you identify and raise cause challenges which, in turn, allow you to preserve your peremptory strikes.
JurySelectionPro also helps you quickly identify who your opponent may strike, allowing you to raise Batson challenges to these eliminations. Finally, the JurySelectionPro provides a visual guide to help you predict the composition of your jury during this otherwise stressful process.
Click on the button below to watch a two minute video and learn more about the JurySelectionPro toolkit and cards.

To order JurySelectionPro choose your toolkit then click the Buy Now button below:
Here's what trial lawyers have to say about JurySelectionPro:
"I love every aspect of your product; the cards and checklist are perfect!"
Anthony Colombo, Jr.,
Criminal Defense Attorney and Adjunct Professor of Trial Skills at California Western School of Law,
San Diego, CA.

Shaun Khojayan, Esq.
Creator of JurySelectionPro
JurySelectionPro is the inspiration of trial attorney Shaun Khojayan. The Jury Selection tools are methods he has used to consistently select the best juries for his cases.
As a trial lawyer for the Federal Defenders of San Diego from 1998-2002, he conducted many federal felony trials. He also wrote and argued appeals before the Ninth Circuit Court of Appeals. After his work with the Federal Defenders, Mr. Khojayan joined the nationally known plaintiff's class-action law firm of Milberg, Weiss, Bershad, Hynes & Lerach, LLP where he litigated securities class action lawsuits. 
In 2004, Mr. Khojayan opened his own practice where he defends clients against criminal accusations and litigates complex civil lawsuits. Mr. Khojayan is a member of the National Association of Criminal Defense Lawyers and the Association of Trial Lawyers of America.