JurySelectionPro
Testimonials
Here's what trial lawyers have to say about JurySelectionPro:
"JurySelectionPro is very easy to use. Voir dire during our murder trial became a lot more manageable because of it. Thank you for your help and toolkit."
---
Guadalupe Valencia, Criminal Defense Attorney, San Diego, CA.
---
"I love every aspect of your product; the cards and checklist are perfect!"
---
Anthony Colombo, Jr., Criminal Defense Attorney and Adjunct Professor of Trial Skills at California Western School of Law, San Diego, CA.
---
"The Cause and Batson checklist is excellent. Nice work on your JurySelectionPro. Keep up the good work."
---
Eugene Iredale, Criminal Defense Attorney, San Diego, CA.
Click on the Play Button Below To Watch a 2 Minute Instructional Video on the JurySelectionPro:
No more rushed, messy notes that you can't read under the pressure of trial.  No longer will you be at a loss for case citations that support why your Cause and Batson challenges should be granted.

Knowing jury selection psychology is not enough to effectively select a jury. This toolkit will help organize juror information, without the hassles of scrambling through notes and forgetting challenges at key times.
Advantages of using JurySelectionPro:
Organizes key information about jurors, for easy recall to judges;
Helps to quickly identify who your opponent may strike;
Helps to visually predict the jury's composition during the selection process;
Comes in a professional case; and
Keeps your trial exhibits orderly and confidential.
The JurySelectionPro toolkit includes:

3 JurySelectionPro Grids laminated to stay rigid and for easy wiping;
250 JurySelectionPro Jury Cards specially printed on hard stock, self-stick and movable on the grids;
1 Cribsheet, tips and advice on Cause and Batson Challenges;
2 different color JurySelectionPro dry erase markers/highlighters to mark the cards and grids; and
1 JurySelectionPro professional carrying case with double reinforced plastic handles, and large
inside pocket to hold exhibits and additional files. Dimensions are 18 x 23 inches.
JurySelectionPro comes with a concise cribsheet that lists important jury selection related cases and statutes that can help you win your Cause and Batson challenges.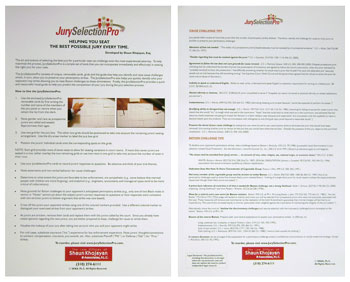 JurySelectionPro is very affordable.
JurySelectionPro toolkit is available for $129 plus tax and shipping.

300 additional jury cards are $29 plus tax and shipping.
To order JurySelectionPro choose your toolkit then click the Buy Now button below: